Here we're going to predict the future of 3D modelling with Maya for the coming years, considering 2025.
In 1906, the world saw the first animated film. It's about bringing the faces drawn on the board to life. Today, more than a century later, the animation industry is very different from its beginnings.
This change can be largely attributed to the rapid popularity of 3D modelling and rendering and 3D artists. Creative technocrats are hard at work developing new tools and techniques to improve 3D modelling and rendering. From CPU to GPU, the industry has great potential.
Creative geniuses from around the world are exploring the dimensions of existing ecosystems where 3D modelling and rendering can change the way we work and the way we experience things.
Also, repetitive tasks will be automated with the help of AI. This means faster project completion without any errors.
3D Modelling changed the whole design sector with Maya
3D printing has already made its way into 3D modelling, and it will continue to do so in the near future and so can be applied during the detailing and design of steel structures.
Another important trend is the onset of virtual modelling. It is the combination of augmented reality (AR), virtual reality (VR), and mixed reality (MR).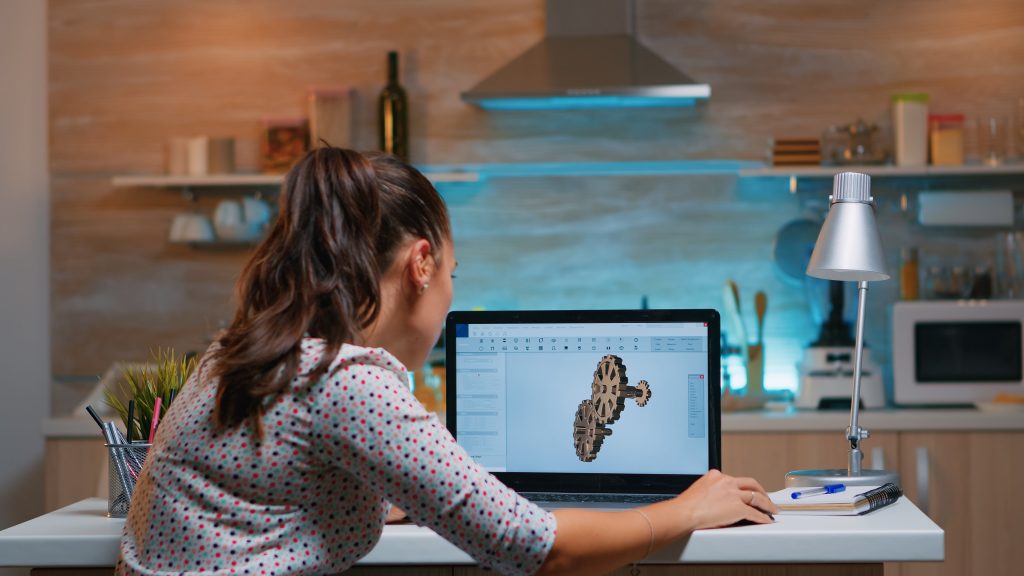 AR will help engineers create more photorealistic designs and models. VR can be used to create interactive models and designs, and it can play a crucial role in the planning of virtual tours. MR combines the best of both worlds.
These trends can enhance the productivity and profitability of the teams working on a particular project. Only an expert will be able to decide which trend to employ for a particular project.
As we move towards Industry 4.0 advancement, the demand for personalised products is growing. To meet customers' requirements and stay relevant in the business, companies are moving from traditional 3D designs to robust 3D models.
Reasons to use Maya for a 3D modelling for your business
With 3D modelling, your images can be created to look more realistic or even more artistic than traditional 2D images. 3D models can also be used in movies and games for special effects or to create unique characters. Additionally, 3D models are often used in engineering and product design.
By creating a three-dimensional model of an object, you can more easily visualise how the object will look and function in the real world. For example, look how advantageous using 3D Modelling and Rendering would be to get a 3D model layout of your house before construction starts!
Easy remodelling and corrections
In a 3D model, you can impact the design of an object while it is still in the early stages. This is because it's much easier to experiment with different ideas and make corrections when working with a 3D model than when you've already started constructing the object.
Better for marketing and project approvals
Having a 3D model to show your supervisors or clients can be very helpful if you're trying to get a project approved. A 3D model can give them a better idea of the outcome than a 2D drawing or blueprint. Additionally, 3D models can be used for marketing and advertising purposes.
Realistic, easy, and quick
3D models are realistic. You can create a three-dimensional image that looks just like the object you're trying to represent. Additionally, it's easy to create a 3D model. You can use Maya software for any Maya service, like product design, architecture, and engineering modelling. Finally, once you have the Maya software, it's quick to create a 3D model.
Lower Cost
3D models can save you money in the long run. By using a 3D model, you can catch errors and problems before they become expensive to fix. Although it depends on the project, using a 3D model can help you save time and funds in the long run.
More entrancing and productive
The experience of going through a 3D model is a lot more fascinating than going through 2D drawings. By being more engaged in what you're looking at, you can catch more details and errors. It feels like winning the client, and hence it is more productive too.
Future use cases of 3D Modelling and Rendering
Animation world
Virtual Reality
Advertising Space
Architectural Space
3D Printing
Photorealism
Augmented Reality
A lot of the workforce goes into building, designing, and printing things we use and see daily. Using 3D modelling and rendering in the future can save us time, resources, and money. How soon it hits the mainstream product market is no longer questionable. Humans have sensed the potential that 3D modelling boasts to make our lives easy and more interesting at the same time.
3D modelling has significantly changed the scope of engineering, architecture, and construction. And it will continue to do so with the latest changes. The first change is AI (artificial intelligence). With AI, creative designs will be created within seconds.
Using 3D modelling, called Maya software, designers can offer a better visualisation to customers and streamline design communication.
We at Pixlnexs believe that in the future, the demand for 3D modelling will surge drastically. As the workflow is changing across industries, 3D modelling will play a massive role in keeping the design process easier, more accessible, and more flexible.
A professional 3D modelling company can help manufacturers produce better product designs and improve the efficiency of their older products with a faster turnaround. This advancement is giving companies a competitive edge over others.
So, in the future, the demand for 3D modelling and other services like 3D product design will grow across multiple industries.
Final words
We hope that more small-sized companies and startups will start using 3D modelling more than traditional design methods.
Be it automotive, manufacturing, construction, or consumer products, every industry is undergoing a design paradigm shift, and this hints to us about the need for more efficient design communication. As a result, in 2023 and beyond, we will see more complex use cases for 3D modelling.
Technologies that shape the future of 3D modelling are those related to AI, including photogrammetry and automated 3D generation. Virtual reality, augmented reality, and mixed reality 3D modelling is a highly specialised fields. As such, there is a high demand for your project if you choose 3D modelling to present it in front of your audience.
If you have got an idea to get your 3D modelling project to get done with Maya at a competitive price, click here and get started with a free quote from Pixlnexs.